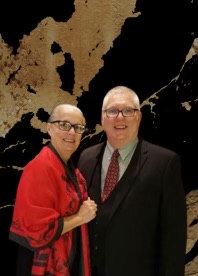 Our bishop was born in DeFuniak Springs Florida, in the cold winter of 1957-58. He was the second of six children and spent the early years of his life with his four brothers and sister in the panhandle of Florida. His dad was a born salesman and his mother, a tall slender native American of the Creek nation. They were and still are a very close and very large family. Their father, Hilton Sims was moved around the state by the promotional direction of the company for which he worked until 1974, when he started his own construction business. He and his family then moved to the north Georgia mountains and from there the older boys married and started families of their own.
Our bishop, in response to the call of God on his life, would attend Jackson College of Ministries in the fall of 1976. There he met and married Pamela Vanderford in September of 1978. He graduated from JCM with a BA in Theology in May of 1979, and from there they moved to Freeport, Illinois where he and Pam put their education to work assisting in the United Pentecostal church. Pamela graduated in 1978 with a degree in Christian Education. In June of 1980, their first daughter, Denita, arrived and in February of 1981 they moved to Tallahassee where they assisted the former pastor until July of 1982.
In July of 1982, Larry and Pam became the pastors of the United Pentecostal Church on Jim Lee road where they ministered until March of 1992. Following the leading of the Lord Jesus, the congregation bought property on US90 and in August of 1993, began construction on the building now known as the home of Soul's Port United Pentecostal Church. The building was completed in the following 10 months and the church celebrated its first service June 5th, 1994.
Over the past forty years Bishop and Sister Sims have continued to serve Soul's Port. They have served Tupelo Children's Mansion for the past 16 years and he has served as presbyter on the Florida District Board of the United Pentecostal Church International for the past five years. He and Sister Sims have carried the gospel of Jesus Christ to many countries around the world with Africa being their favored place of mission's work. Bishop and the men of Soul's Port have helped build churches in Europe, central and south America and currently he and Sister Sims are assisting in the establishment of an orphanage in Johannesburg, South Africa.
Their four children, Denita, Deleah, Austin, and Addy have all grown up and have settled in the Tallahassee area. They have six grandchildren of various ages, one of which is gone on to live with Jesus. Soul's Port has been their life and extended family… having opened their hearts and home to God's people down through the years.